C- Scan 450 Military Version :
The C-Scan 450 military unit was developed to meet the demanding needs of the military, realizing the importance of a compact portable unit, it's low-cost, innovative design and high quality, marks this unit as the new generation in side scanning sonar.
With built in computer and G.P.S. enclosed in a water proof military type casing. The image display and system control all in one unit results in unprecedented ease of use.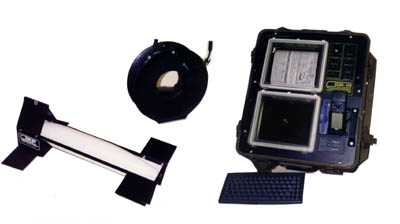 C- Scan 450 Military Version Specifications :
Towfish:
Acoustic Frequency 100KHz approximately Speed of 1500 m/sec
Range Switchable 50/100 meters
Vertical Beam Width 60°
Horizontal Beam Width 1.5°
Pulse Rate 2pps on all ranges
Towing Speed 1 to 5 knots
Transit Towing Speed 0-10 knots
Towfish Height up to 35 meters above sea floor
Power Requirements 18 volts DC
Power Range 12 VDC to 30 VDC
Maximum Towing Depth 120 meters (Modifications can be made for further depths.)
Construction Plastic molding encapsulated syntactic foam with detachable aluminum fins
Dimensions 640 x 389 x 245
Weight 9Kg (20lbs) in air 6 Kg in water
Color Bright Yellow / White / Gray / Black
Cable Reel Assy:
Cable length standard 50 meters (optional lengths)
Cable Type 1/8" dia. Double Armored Co-Axial
Connectors Underwater Mateable (U.S.I.)
Release Mech. Standard Flip Over
Cable Reel Light Weight Hand Operated
Dimensions 220 x 300 x 350
Weight 4.5 Kg (10 lbs)
Control Unit :
(All switchable controls & indicators water proof)
Computer Pentium II-400 and above
Software U.S.S.P.G. Version 1.0
Software Controls Run / Hold / Negative / Clear / End / Snapshots / Save Image / Open Log / Close Log / View Log / Selectable Image Baud rate / 19.2k or 57.6k / Selectable Image
Port serial port 1 or 2 / G.P.S. Baud rate 2400, 4800 or 9600
P.C. Interface-Board BD-0280-ASY REV
G.P.S. Rockwell 96 Jupiter G.P.S. or Garmm G.P.S. 38
Antenna Rockwell chassis mounted antenna
Zip Drive Iomega Zip 100
Keyboard SEJIN Infrared keyboard
Start/Stop Power ON/OFF
On LED Power LED
Standby / Run Towfish Power
Range (meters) 50/100 meter Port & Starboard
Towfish Height (meters) Water Column removal
Towfish Speed (knots) Speed Over Ground 1 to 5 knots Potentiometer
Print Test 16 Gray Scales
Advance Paper Pushbutton Advance White Paper
Contrast Set Darkest Gray Level
Threshold Set Gray Scale
Battery 12 Volt 6 Amp. Hour lead acid
Power Consumption 5.5 Watts typical (Standby) 17 Watts typical (3 knots) 29 Watts typical (5 knots)
Auto Switch-off Unit switches off automatically when battery voltage falls below 10 volts
Connectors All water proof connectors (U.S.I.)
Media Special high resolution grade of direct thermal paper
Media Dimensions 50 meters long 6,7" (170mm) wide
Hard Copy Fixed array full width thermal printhead
Print Drive High resolution stepper motor
Media Transport Take up motor
Print Characteristics 6.10" (155mm) Print width 16 lines per .0390" (per mm), 16 shades of gray per pixel.
Scale Lines Every 10 meters on 50 meter range, Every 20 meters on 100 meters range.
Gain Control Full Automatic adaptive gain control
Operating Temp. 5 to 45 deg. C
Dimensions 19 1/4" L x 15 1/2"W x 7 1/2"D
Weight 11.3Kg (25 lbs)
Towfish Speed (Print Speed) Adjustable to give correct image aspect ratio from 1 to 5 knots.