What is Side Scan Sonar ?
Sidescan Sonar is a powerful underwater survey technique that until now could only be afforded by the Government Agencies and Large Private Corporations.

Using such equipment, it is possible to build up a map-like picture of the topography of the sea bed and objects on the bottom in great detail.

Now, for the first time, Special Product Group brings this technology within reach of leisure and small businesses. Applications include inspection, the mapping of pipelines and cable runs, geological surveying, search operations , wreck finding and mine detection


SPECIFICATIONS

SONAR CONTROLS

CABLE LENGTH

PC UPGRADE

C-SCAN 450 MILITARY VERSION

CONTACT US

E-MAIL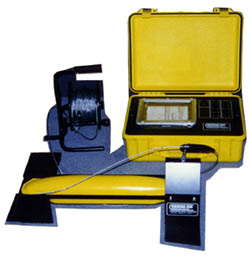 Where Can I Use It ?
The 450 Sidescan Sonar is designed for use from small open boats. The control unit and printer are built into a single waterproof case / heavily splash proof when the case is open and in operation. The weight of the equipment, totaling less than 25kg (55lbs), makes it very portable and simple to use from a variety of small craft. Another feature would be the internal rechargeable 12 volt battery allowing an operating time of approximately 4 hours. The system can also be supplied by an external 12 volt power source.
The 450 Sidescan Sonar can cover a maximum swath of 200 Meters in width on a single sweep enabling large areas to be "fine-combed" effectively.
The towfish weighing approximately 9kg (20lbs) enables a single person to deploy and operate the system from very small boats. The fish itself has a built in depressor that is designed to be towed with excellent stability under most sea conditions.
The towfish has a "Flip-over" feature that consists of a shear pin mechanism. When in the case of seabed collision, the shear pin will break and cause the fish to "Flip over", thus freeing itself from the obstacle.